Doctor of Philosophy (PhD)
Robyn Stobbs
Thesis title: (Im)Material Worlds: An Exploration of the Discursive Construction of the Materialities of Fictional Worlds through Information-in-Social-Practice
Robyn's interdisciplinary research examined how fictional worlds are built turn-by-turn in the talk of tabletop roleplaying games. Using recordings of live gameplay, she analyzed how players orient to and construct imaginary material settings moment-by-moment, how information is exchanged and who has rights to know and inform these places (as players and as characters), and how references to outside knowledge and other fictional works are used as resources to inform the imagined worlds. Her findings demonstrate ways that information is created and used in everyday activities and how imagined material environments can be collectively constructed.
Robyn found the conversations with peers and faculty and getting to work with people who were so passionate about their research to be the most valuable experience in graduate school. She loves learning about different research methodologies and learning and sharing ways to keep research organized.
Robyn is now the research data management librarian at Athabasca University where she works with researchers to support planning for data handling throughout the research lifecycle, including data sharing and reuse.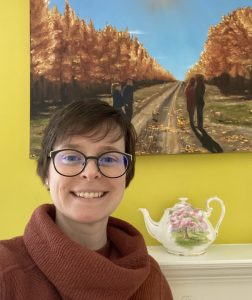 Master of Science - Family Ecology and Practice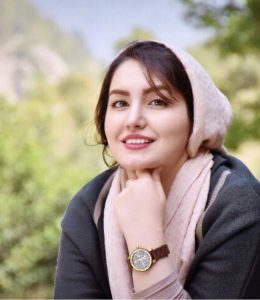 Elahe Ghanbarian
Project Title:  Confirmatory Factor Analysis and Measurement Invariance of the Intrasexual Rivalry Scale (IRS) in a Non-Western Culture
Elahe's research focused on couples' well-being, intimate relationships, and quantitative and longitudinal research methods. Her research project sought to provide further psychometric evaluation of the Intrasexual Rivalry Scale (IRS) by exploring the underlying factor structure of the scale and testing whether it measured constructs consistently among men and women. The IRS is a newly-developed measure of self-promoting and rival-derogatory strategies that individuals engage in to derogate or be more attractive than other same-sex peers to gain access to potential mates. The IRS was designed and psychometrically validated to address the shortcomings of previous measures of intrasexual rivalry. She answered the research questions with confirmatory factor analyses and measurement invariance testing across sexes in a sample of 320 women and men. The results indicated that although the two-factor model was the best fit to the data, the IRS failed the measurement invariance testing. Given the centrality of gender differences to evolutionary psychology, the IRS should be modified before it can be used in evolutionary psychology research. 
Elahe found the Department of Human Ecology to be a supportive and nurturing environment. She gained theoretical and practical skills suitable for conducting research while connecting with expert researchers in family science. Elahe published several papers in peer-reviewed journals and worked as a teaching assistant in "Interviewing and Counseling, HECOL 315" under the supervision of Dr. Matthew Johnson. Elahe said she felt privileged to interact with intelligent and committed students from different cultures in Human Ecology and valued the opportunity to work with and learn from great academic mentors and professors. The multicultural environment of Canada provided her with the opportunity to improve her English language skills and effectively communicate with people from different cultures. 
Elahe's goals are to work at the Family Center in Canada to help families and children flourish and help people engage with one another to promote healthy, safe and economically strong communities.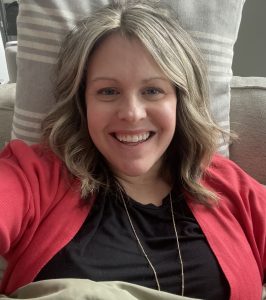 Kelty Heck
Project Title: Dual-Earner Parents and Well-being: How Work-Family Policy Affects Parental Well-Being and Family Functioning
The purpose of Kelty's capstone project was to critically evaluate and examine work-family literature to better understand how work-family policy affects dual-earner parents, their well-being, and positive family functioning. It identified key themes, theoretical frameworks, and limitations within the literature, and explored the impact of COVID-19 on dual-earner parents, their families, and work-family policy. The paper concluded with a list of work-family policy and culture recommendations for broader consideration and implementation by work-family policymakers and employers that will foster positive well-being in dual-earner parents and promote healthy family functioning.
During grad school, Kelty found she valued the perspectives of her classmates and professors during class discussions about literature.
Kelty is currently the Student Recruitment Director and Assistant Registrar at the University of Alberta.
Master of Science - Textiles and Clothing
René Arredondo Campos
Thesis title: Textile fibre fragments in marine environments and their interaction with suspended hydrocarbons
Renè's research aimed to identify if fibre fragments from natural and synthetic fibres would interact to different degrees with pollutants suspended in water. There was a focus on polycyclic aromatic hydrocarbons (chemical byproducts of fossil fuels' combustion), which are abundantly emitted in the vicinities of urban centers, and their uptake rate by the three most commonly used textile fibres; polyester, cotton and polyamide. The results showed that these pollutants have a higher affinity towards synthetic textiles, which can act as a sinkhole or a vector into the food chain in aquatic environments. However, natural fibres like cotton can play the same role despite their faster degradation times.
Renè valued being able to participate in multicultural and multidisciplinary research groups, which provided a nurturing environment to develop and improve skills in both daily and academic lives.
Anil Kumar
Project title: Microplastic pollution caused by domestic laundering: Consumer awareness and willingness to accept solutions
Having spent some time in the textile industry and learning about its environmental impact, Anil was interested in exploring sustainable practices and innovative technologies that can mitigate the environmental impact of the textile industry. Microplastic pollution has been recognized as an emerging concern as they are ubiquitous in our environment, having been found in the air we breathe, the water we drink, and the food we eat. His project was to understand whether Canadians are aware of the problems microplastics pose to the environment, the role domestic laundering plays in increasing microplastic pollution, and consumer willingness to accept technological and policy-based interventions to reduce the release of microplastics in the environment. It was found that Canadian consumers were largely unaware of the significance of microplastic pollution from clothing and domestic laundering. The project identified a need to make current technical solutions more 'user friendly' and to develop effective non-coercive intervention strategies to incentivize pro-environmental behavioural change.
Grad school was a transformative experience for Anil. Returning to school after a decade of working in the apparel industry was not easy, but the challenges he faced led to his professional and personal development. He valued the opportunities to exchange knowledge and viewpoints with fellow scholars. These interactions broadened his perspective and exposed him to novel ideas that enriched his research endeavours.
Anil would like to express his deepest gratitude to Dr. Rachel McQueen for her exceptional guidance, mentorship, and transformative impact throughout his journey in grad school. Her patience, approachability, and willingness to listen have significantly impacted his confidence and overall well-being. Working under her supervision was an invaluable experience contributing substantially to his personal and professional growth.
Anil is now working as a Raw Material Specialist at Mountain Equipment Company, popularly known as "MEC." Working at MEC aligns well with Anil's passion for sustainability. MEC provides a platform to contribute to a more sustainable future through strategic product development, operations, and practices. He wants to focus his career on advocating for the use of sustainable materials and practices in the apparel industry.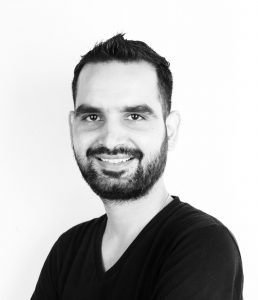 Doctor of Philosophy (PhD)
Chelsea Freeborn
Thesis title: Learning "In Relations:" Engaging with Decolonization in Early Learning and Child Care
The purpose of Chelsea's research was to contribute to the limited understanding of potential indicators of quality in early learning and child care and the dispositions of educators working with Indigenous families in an urban setting. Weaving together three studies, this multi-paper dissertation identified current literature regarding indicators of quality in early learning and child care, and determined how quality for Indigenous children and families might be shaped by child care contexts, including educator dispositions, pre-service learning environments, and engagement in decolonization work.
During her PhD program, Chelsea valued the opportunities offered to share knowledge, perspectives and understandings with faculty members and other students. She loved learning from others and gaining new insights and perspectives. She also appreciated the opportunities granted to her through working with and being mentored by her PhD supervisor, Dr. Rebecca Gokiert.
Chelsea is now working as a faculty member in the Department of Sociology at the University of British Columbia.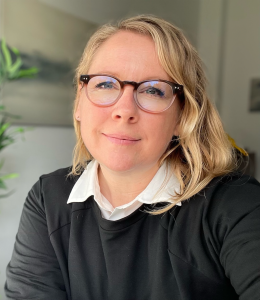 Master of Science - Family Ecology and Practice
McKenna Oleksuik
Thesis title: Virtues, responsible actions, and sexual well-being: A latent profile analysis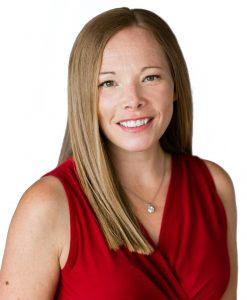 Laura Woodman
Thesis Title: Supporting Quality and Longevity in Alberta's Family Day Home Educators: A Qualitative Study
Laura's research explored the strengths and challenges of Alberta's family day home educators using a community-based participatory approach (CBPR). This study found that day home educators have many strengths, including enjoying their work, networking and problem-solving, and advocacy. Challenges are guilt and worry leading to minimizing time off, day homes being treated the same as day cares, and misperceptions. Areas that can act as a strength or a challenge include relationships, inclusivity, and continuing education. This study's findings contribute to knowledge about day home educators strengths, challenges, and supports, enabling them to offer quality and longevity in childcare. Consistent with a CBPR approach, the results of this research should prompt targeted practice and policy change for educators and their support systems, which will benefit children and families, and ultimately contribute to a stronger, more cohesive and healthy society.
During grad school, Laura valued connecting with other scholars, learning about a wide array of topics, and taking advantage of every opportunity possible. She is particularly appreciative of the support she received from her supervisor, Dr. Adam Galovan, as well as influential professors, including Dr. Rebecca Gokiert, Dr. Ken Caine, Dr. Kat Danser, and Dr. Nancy Galambos. Their interdisciplinary approaches and excellent teaching have strongly supported her as a human ecologist.
Laura is now embarking on her PhD at the Department of Human Ecology, where she will continue to examine child care.
Master of Science - Textiles and Clothing
Sabrina Marsha
Project title: Wash it, or wear it? Perceptions of odour control technologies on activewear and their influence on the likelihood to launder
The purpose of Sabrina's research was to examine the role that antimicrobial and anti-odour treatments on activewear clothing have on consumers' decision-making when it comes to laundering frequency. Sabrina tested this by creating an experimental survey which featured a hypothetical clothing company called "Fresh Clothes" and distributing it to participants. Participants were randomly assigned to one of the three groups (i.e., control, antimicrobial treatment, anti-odour treatment). Her research findings indicated that an antimicrobial or anti-odour treated garment is not likely to be washed any less often than a garment that does not have such a treatment. In other words, individuals are not likely to wear an antimicrobial or anti-odour garment for a greater number of times between laundering, than a standard activewear garment. The findings from the experimental section and the reported behaviour suggest that consumers do have their own habitual or ingrained practices for when the laundry should be done. There was evidence from the current study that consumers do treat different types of garments differently in terms of how often they wear them before washing.
Sabrina is currently working at Davey Textile Solutions as a weaving/warping technician. Her future plans are to increase her textile expertise through her experience and knowledge gained within the textile industry and be in a position to consult for the industry one day.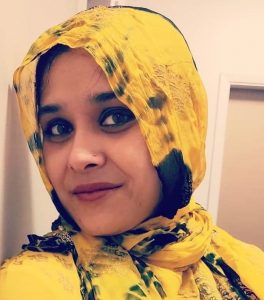 Doctor of Philosophy (PhD)
Razak Oduro
Thesis title: Organizing Against Poverty in Edmonton: A Case Study of EndPovertyEdmonton Movement Organization
Razak's research examined the antipoverty efforts and social movement-building approach of EndPovertyEdmonton. In the context of poverty, social movement organizing refers to groups of actors working together as a collective and in a coordinated manner to change fundamental structures that reinforce poverty. Using a case study methodology, and generating data through one-on-one interviews and a document review, findings from the study offer insights into the dynamics, strategies, and contexts of antipoverty organizing in Edmonton.
When asked what were highlights during his graduate school experience, Razak said that he had the privilege of meeting intelligent students who are committed and inspired to see a genuine change in the world. The interactions with fellow students at Human Ecology were remarkable, bringing forward innovative ideas to make people live dignified lives. The opportunity to work with great academic mentors and professors cannot be over-emphasized. Learning from incredible Human Ecology professors motivated him to strive for excellence. His life has been enriched by the remarkable intellectual setting that grad school offers.
Razak is now a Policy Analyst at Alberta Health and looks forward to a bright future where he can further use his skills and knowledge to drive policy success.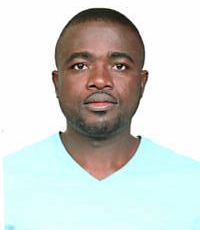 Master of Science - Family Ecology and Practice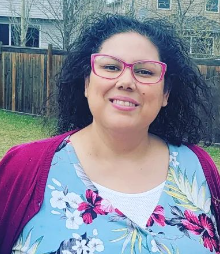 Patricia Jabonero Escobar
Project title: Intercultural Education in Global Communities
Helping immigrants integrate into Canadian society facilitates their chance to adjust to Canadian culture, especially those immigrants that come from non-English speaking countries. To address and solve this issue Catholic Social Services, specifically its Intercultural Education team, aims to help immigrants by offering support through workshops for individuals and families. As part of her practicum experience, Patricia was fortunate to work with this team, taking the role of leading a program to support adult Latino immigrants. As part of her responsibilities, she was also tasked to draft a document presenting the program's objectives and identifying future required actions for the team to achieve those objectives and needs, and also to assess the value of the program.
One of the most valuable learning experiences Patricia had as a graduate student was the ability to develop her professional preparation while enhancing academic learning and professional practice. Grad school helped her to achieve a greater understanding and awareness of the norms and values of a profession in the helping services, especially in relation to multicultural competence, and communication skills.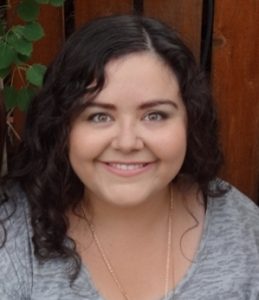 Sabrina Mussieux
Project title: Youth Focussed Community Programming
Sabrina finished off her master's degree with a practicum at The Family Centre where she worked alongside the Youth Liaisons as part of the Neighborhood Empowerment Team (NET), a collaboration involving The Family Centre, the City of Edmonton, the Edmonton Police Service, and the United Way. NET works with communities and youth across Edmonton to develop programs that address incidents that involve youth, and which pose a threat to the safety and security of community members.
During Sabrina's practicum she took the opportunity to apply classroom learning to a variety of activities including background research for NET projects, conduct surveys, analysis of data, and the development of newsletters. As well, she contributed to social media and the creation of project materials. For her independent project she completed a review of literature about youths' usage of public spaces. The review provides the Youth Liaisons with up-to-date and valuable information that they and the NET stakeholders can draw on in their ongoing work with youth and communities.
Sabrina states that her practicum facilitated the development of practical skills that she can take into other work environments. She is grateful to have had the opportunity to work with the Youth Liaisons, gain skills, and learn about a variety of ways in which she can be an involved community member.
Currently, Sabrina is employed as an undergraduate student advisor in the Alberta School of Business.
Master of Science - Textiles and Clothing
Skylar Brown
Thesis title: Examining the Potential for Bacterial Build-up on Apparel Fabrics with Repeated Use - A Laboratory Study
Skylar's research explored bacteria build-up in apparel fabrics with repeated use/laundering cycles. She was also interested in determining how laundering affects the removal of bacteria from fabrics with different fibres types and whether bacteria transfer between textiles during the laundering process. Key findings suggest that despite the expectation that bacteria would build up as the number of inoculation/wash cycles increased, there was no evidence for this in the current study. While laundering was found to reduce the bacterial levels in textiles, it was not sufficient to remove bacteria entirely from all specimens.
Skylar states that her most valuable experience during graduate school was the opportunity to engage in the research process to gain a clear understanding of project design and methodology.
Currently, Skylar is focusing on expanding her embroidery and textiles business with a keen eye toward conservation.
Master of Arts - Material Culture
Katelin Karbonik
Thesis title: Clothing the Medieval Body: A Reconstruction of the Pourpoint of Charles de Blois
Katelin's research involved re-making a very rare surviving 14th-century garment and then she had a participant wear it. This allowed her to explore this unique garment from the perspectives of both maker and wearer. She found that this garment was cleverly constructed to maximize aesthetic impact and used a limited amount of likely very costly fabric (the original fabric was made with gold-wrapped threads afterall)! Through the wearing process, she learned that this garment could afford a wide range of motion particularly in the shoulder area, which runs contrary to many assumptions about historic dress as being restrictive.
Katelin described the conversations with and mentoring from faculty as being some of the most valuable experiences she had at the department. That and the conversations with her peers! It helped keep everything in perspective.
Katelin is currently working as curator of a clothing and textiles collection at the Red Deer Museum + Art Gallery. She also teaches sewing courses at Gather Textiles in Edmonton. Katelin plans on pursuing a Ph.D. in the future. So she's currently browsing programs to see where she might want to go.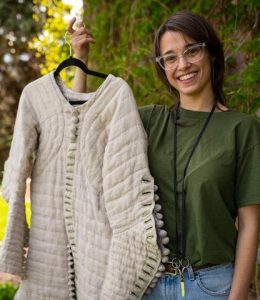 Amanda Jurgens
Thesis title: Home Economics as an Education in Material Relationships: What Curriculum Guides, 1956 and 1969, tell us About Girls, Women, Homes, and Dress
Amanda's research began with the question; how do home economics clothing curriculum guides (Saskatchewan, 1956 and 1969) present dress and clothing as a subject area? Study of the curriculum guides revealed the ways in which three main areas were presented to students as a part of a home economics course: Dress, the home, and the body. Her research illuminated a shifting emphasis in the curriculum guides from the family (1956) to the individual (1969). The findings are significant in reflecting upon the influence of past curriculum guides on today's curriculum guides as well as in considering the effect of interdisciplinary study on the perception of Human Ecology/Home Economics.
Working with other individuals who were passionate about Human Ecology was the most valuable experience Amanda said she had during grad school.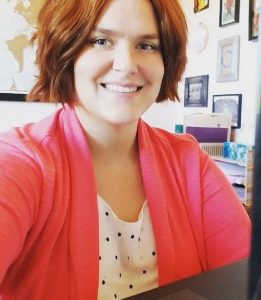 Master of Science - Family Ecology and Practice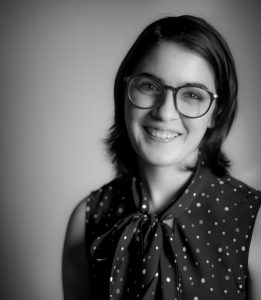 Kareema Batal
Project title: Breaking the Barriers to Socially Conscious Business in Edmonton
Kareema's research explored the barriers and facilitators local business owners face in adopting socially conscious business practices. The goal of her research was to understand what factors play a role in supporting small businesses to engage in socially conscious business behaviour, using Edmonton businesses as a local case study.
Kareema says she was fortunate to work as a Teaching Fellow in the Peter Lougheed Leadership College on campus. This combined teaching, professional development and relationship-building experience was the highlight of her graduate student experience.
As an entrepreneur in Edmonton, Kareema spends most of her time running two businesses - Neo Juicery and Cafe Neo. She explains that since she has acquired a great deal of knowledge from her graduate research she is using that knowledge to enhance her practices as a business owner toward making the two Neo's socially conscious businesses and apply the practices she has spent the last few years researching.
Kareema also states that she's thrilled that she chose to do her graduate studies in Human Ecology. At first, she wasn't quite sure how her interests as an entrepreneur lined up with the work of family studies in HECOL. However, it didn't take long for her to learn that Human Ecology as a discipline is not only interdisciplinary and far-reaching in its application, but due to the holistic nature of the HECOL philosophy of practice, she has been able to apply it as a foundational lens through which she has been able to grow as an entrepreneur.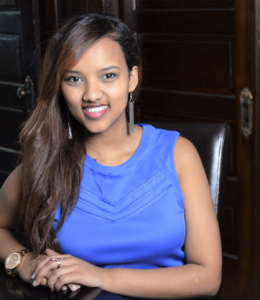 Semhar Berhe
Project title: Immigration and the Canadian Employment Experience: Canada's Role in Integrating the Skilled Immigrant
Semhar's research focused on the post-migration experience of individuals who immigrated to Canada under the Skilled Worker program. She found that these skilled immigrants are often under/unemployed despite their extensive knowledge, abilities, and achievements pre-migration. There remains a gap in expectations pre-migration and post-migration for skilled immigrants, leading to  the underutilization of skilled immigrants' gifts and abilities.
Semhar explains that one of the most valuable experiences she had during her time as a graduate student in Human Ecology was the ability to engage in discourse with other graduate students and professors. She found that the environment of grad school fostered social cohesion, leading toward a greater goal: improving the lives of all people!
Semhar is currently working as a Global People Policy Specialist at a Fintech company based out of Ontario.
Master of Science - Textiles and Clothing
Lauren Degenstein
Thesis title: Integrating Product Stewardship into the Clothing and Textile Industry: A New Zealand Case Study
The clothing and textile industry has become one of the world's greatest polluters as tremendous volumes of clothing are produced, used, and disposed of at alarming rates. The industry must transition from its linear take-make-waste model towards a circular economy where textile products are kept in circulation and waste is minimized or eliminated. Product stewardship, a strategy where stakeholders take responsibility for the environmental impacts of products through design to the end-of-life stage, is one option to enable the circular economy. Lauren's thesis research explored stakeholder perspectives on product stewardship for clothing and textiles in New Zealand. Key findings suggest that product stewardship operating within the current linear system can only go so far; changes must occur at every stage of the value chain with all stakeholders making efforts towards circularity. Furthermore, the results highlight the importance of contextual factors and capacities for tailoring regional product stewardship schemes to local needs.
The most valuable experience during grad school came from saying "yes" to the opportunities that came Lauren's way, whether it was taking a course outside of her department, working on different research projects, or joining a students' association. These experiences allowed Lauren to learn from others with different perspectives and shaped how she approached her own research.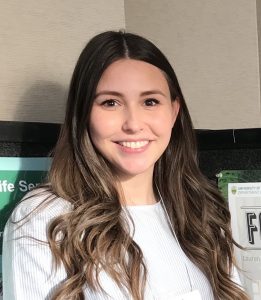 Ikra Shuvo
Project title: Impact of Different Boundary and Ambient Conditions on the Heating Behaviour of Joule Textile Heaters
Ikra's research was aimed at characterizing the effectiveness of joule heaters used in smart heating textiles. He developed two mathematical models – one for the heating and one for the cooling profile curves – of joule heaters while investigating the impact of different boundaries and ambient conditions on the heating behaviour of joule textile heaters to describe the dynamic heating and cooling behaviours of a textile joule heater. The robustness of his models was assessed by testing different technologies of textile heaters with a series of boundary conditions inside a controlled humidity chamber and a conditioning room under different ambient conditions (i.e., relative humidity and temperature). Ikra's models were able to successfully describe the dynamic behaviour of the tested joule heaters and could be used to develop criteria to characterize the heating efficiency of smart heating textiles.
Ikra stated that the most valuable experience he had while studying at the department was the academic ecosystem and learning from different faculty within the department. Now Ikra is pursuing his Ph.D. at the Massachusetts Institute of Technology (MIT). He is also a tenant of the Center for Nanoscale Systems (CNS) at Harvard University. His research field is in Biomedical Engineering, and he currently focuses on designing piezoelectric-based biomedical devices using MEMS (micro-electromechanical system) fabrication technologies.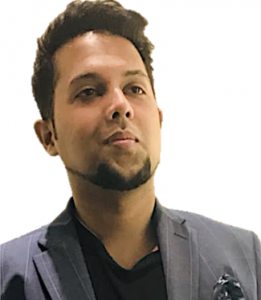 Diana Yehia
Thesis title: Investigation of Support Fabrics for Graphene-Based End-of-Life Sensors for Fire Protective Garments
Fire-resistant (FR) fabrics used in protective clothing experience a reduction in performance because of ageing. Yet there are generally no visible clues before the loss in performance has reached a dangerous level. To solve this issue, a graphene-based end-of-life (EOL) sensor is being developed at the University of Alberta which will be placed as a patch on the protective clothing's surface to indicate when an FR fabric has reached an unsafe level of performance. As part of this larger research, Diana's thesis aimed to identify the most suitable fabric to serve as a support for the EOL sensor. This support fabric should be flame-resistant, washable, and withstand ageing conditions (e.g. temperature, ultraviolet light, and moisture) without degrading. A series of FR fabrics made of different materials were subjected to accelerated ageing at specific conditions. Based on the behaviour observed for the different fabrics tested, an aramid fabric was identified as the best material candidate because of its superior performance after exposure to accelerated thermal ageing and good resistance to hydrothermal ageing and accelerated laundering.
Diana stated she really valued the experience she had as a graduate student working on her thesis project. This experience enriched her with many skills such as organization, time management, self-discipline, critical thinking, presentation and lab skills. The advantage of working in PCERF's lab and the freedom she had in conducting experiments developed her experimental and analytical skills and developed her interest further in the topic of protective clothing. She feels fortunate to have had such a great support system, with her supervisors, and the other students – who are now her friends.
Diana is currently a weaving technician and research assistant working on the commercialization of the graphene sensor at Davey Textile Solutions. In the short term, her main goal is to gain more textile industry expertise and obtain as many valuable insights as she can, in addition to getting leadership training. In the long term, she aspires for a management role and perhaps obtain another degree related – or not – to textiles!