Congratulations to our graduate students who are celebrating their convocation this Spring 2023.
We wish you all the best in your future endeavours.
Doctor of Philosophy (PhD)
Robyn Stobbs
Thesis title: (Im)Material Worlds: An Exploration of the Discursive Construction of the Materialities of Fictional Worlds through Information-in-Social-Practice
Robyn's interdisciplinary research examined how fictional worlds are built turn-by-turn in the talk of tabletop roleplaying games. Using recordings of live gameplay, she analyzed how players orient to and construct imaginary material settings moment-by-moment, how information is exchanged and who has rights to know and inform these places (as players and as characters), and how references to outside knowledge and other fictional works are used as resources to inform the imagined worlds. Her findings demonstrate ways that information is created and used in everyday activities and how imagined material environments can be collectively constructed.
Robyn found the conversations with peers and faculty and getting to work with people who were so passionate about their research to be the most valuable experience in graduate school. She loves learning about different research methodologies and learning and sharing ways to keep research organized.
Robyn is now the research data management librarian at Athabasca University where she works with researchers to support planning for data handling throughout the research lifecycle, including data sharing and reuse.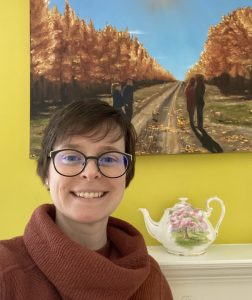 Master of Science - Family Ecology and Practice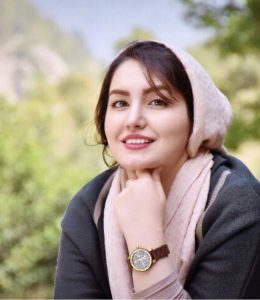 Elahe Ghanbarian
Project Title:  Confirmatory Factor Analysis and Measurement Invariance of the Intrasexual Rivalry Scale (IRS) in a Non-Western Culture
Elahe's research focused on couples' well-being, intimate relationships, and quantitative and longitudinal research methods. Her research project sought to provide further psychometric evaluation of the Intrasexual Rivalry Scale (IRS) by exploring the underlying factor structure of the scale and testing whether it measured constructs consistently among men and women. The IRS is a newly-developed measure of self-promoting and rival-derogatory strategies that individuals engage in to derogate or be more attractive than other same-sex peers to gain access to potential mates. The IRS was designed and psychometrically validated to address the shortcomings of previous measures of intrasexual rivalry. She answered the research questions with confirmatory factor analyses and measurement invariance testing across sexes in a sample of 320 women and men. The results indicated that although the two-factor model was the best fit to the data, the IRS failed the measurement invariance testing. Given the centrality of gender differences to evolutionary psychology, the IRS should be modified before it can be used in evolutionary psychology research. 
Elahe found the Department of Human Ecology to be a supportive and nurturing environment. She gained theoretical and practical skills suitable for conducting research while connecting with expert researchers in family science. Elahe published several papers in peer-reviewed journals and worked as a teaching assistant in "Interviewing and Counseling, HECOL 315" under the supervision of Dr. Matthew Johnson. Elahe said she felt privileged to interact with intelligent and committed students from different cultures in Human Ecology and valued the opportunity to work with and learn from great academic mentors and professors. The multicultural environment of Canada provided her with the opportunity to improve her English language skills and effectively communicate with people from different cultures. 
Elahe's goals are to work at the Family Center in Canada to help families and children flourish and help people engage with one another to promote healthy, safe and economically strong communities.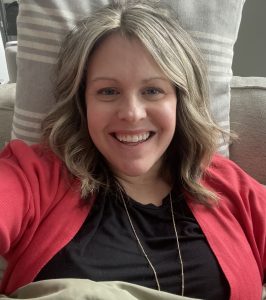 Kelty Heck
Project Title: Dual-Earner Parents and Well-being: How Work-Family Policy Affects Parental Well-Being and Family Functioning
The purpose of Kelty's capstone project was to critically evaluate and examine work-family literature to better understand how work-family policy affects dual-earner parents, their well-being, and positive family functioning. It identified key themes, theoretical frameworks, and limitations within the literature, and explored the impact of COVID-19 on dual-earner parents, their families, and work-family policy. The paper concluded with a list of work-family policy and culture recommendations for broader consideration and implementation by work-family policymakers and employers that will foster positive well-being in dual-earner parents and promote healthy family functioning.
During grad school, Kelty found she valued the perspectives of her classmates and professors during class discussions about literature.
Kelty is currently the Student Recruitment Director and Assistant Registrar at the University of Alberta.
Master of Science - Textiles and Clothing
René Arredondo Campos
Thesis title: Textile fibre fragments in marine environments and their interaction with suspended hydrocarbons
Renè's research aimed to identify if fibre fragments from natural and synthetic fibres would interact to different degrees with pollutants suspended in water. There was a focus on polycyclic aromatic hydrocarbons (chemical byproducts of fossil fuels' combustion), which are abundantly emitted in the vicinities of urban centers, and their uptake rate by the three most commonly used textile fibres; polyester, cotton and polyamide. The results showed that these pollutants have a higher affinity towards synthetic textiles, which can act as a sinkhole or a vector into the food chain in aquatic environments. However, natural fibres like cotton can play the same role despite their faster degradation times.
Renè valued being able to participate in multicultural and multidisciplinary research groups, which provided a nurturing environment to develop and improve skills in both daily and academic lives.
Anil Kumar
Project title: Microplastic pollution caused by domestic laundering: Consumer awareness and willingness to accept solutions
Having spent some time in the textile industry and learning about its environmental impact, Anil was interested in exploring sustainable practices and innovative technologies that can mitigate the environmental impact of the textile industry. Microplastic pollution has been recognized as an emerging concern as they are ubiquitous in our environment, having been found in the air we breathe, the water we drink, and the food we eat. His project was to understand whether Canadians are aware of the problems microplastics pose to the environment, the role domestic laundering plays in increasing microplastic pollution, and consumer willingness to accept technological and policy-based interventions to reduce the release of microplastics in the environment. It was found that Canadian consumers were largely unaware of the significance of microplastic pollution from clothing and domestic laundering. The project identified a need to make current technical solutions more 'user friendly' and to develop effective non-coercive intervention strategies to incentivize pro-environmental behavioural change.
Grad school was a transformative experience for Anil. Returning to school after a decade of working in the apparel industry was not easy, but the challenges he faced led to his professional and personal development. He valued the opportunities to exchange knowledge and viewpoints with fellow scholars. These interactions broadened his perspective and exposed him to novel ideas that enriched his research endeavours.
Anil would like to express his deepest gratitude to Dr. Rachel McQueen for her exceptional guidance, mentorship, and transformative impact throughout his journey in grad school. Her patience, approachability, and willingness to listen have significantly impacted his confidence and overall well-being. Working under her supervision was an invaluable experience contributing substantially to his personal and professional growth.
Anil is now working as a Raw Material Specialist at Mountain Equipment Company, popularly known as "MEC." Working at MEC aligns well with Anil's passion for sustainability. MEC provides a platform to contribute to a more sustainable future through strategic product development, operations, and practices. He wants to focus his career on advocating for the use of sustainable materials and practices in the apparel industry.