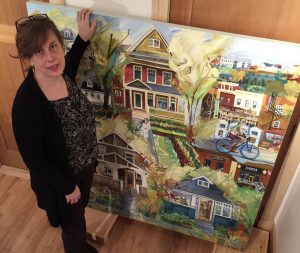 Master of Arts in Material Culture (Course based)
Supervisor: Dr. Megan Strickfaden
Research topic: Visual Artist – Completing a series of Urban Garden paintings
I have been writing about my own making process and examining my paintings as Material Culture.
Publications and other research contributions:
I have artwork in Edmonton City Hall, the Alberta Foundation for the Arts. I am represented by AGA Art Rental and Sales and Gibson Fine Art in Calgary.
This is a recent piece I did for Travel Alberta in the Globe and Mail.